COVID-19 Coronavirus Update - 1st April 2020
A week is certainly a long time in the current environment, and we hope that you and your families are continuing to stay safe.
We'd like to thank you for your patience regarding any delays you may have experienced with either deliveries or our customer service or tech phone lines through this very busy time.
Whilst March has been a month that many of us would never have predicted in a lifetime, it has been refreshing to see how people have adapted to the situation and found new ways of operating their businesses – in particular moving to online audiovisual consultations. Whilst no doubt stress and anxiety levels have been heightened in recent weeks – it is reassuring to see the sharp decline in confirmed cases in the last few days of the month of March and we hope that with everyone doing the right thing in maintaining their distance and continuing to observe strict hygiene regimes, that this trend continues. If you wish to stay up to date on the latest COVID-19 research, please follow the 'Henry and Michael' Facebook page.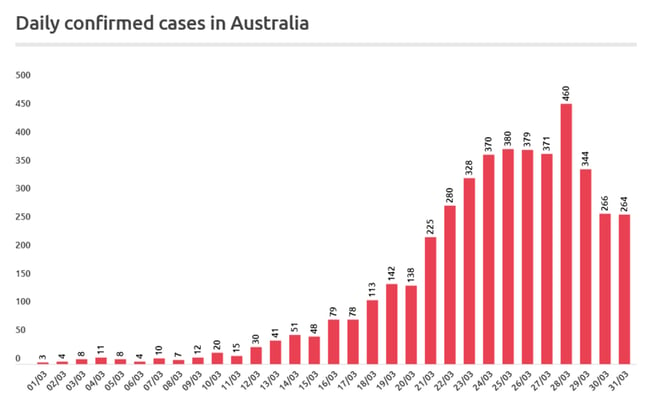 Source from https://www.covid19data.com.au/
Industry Action
With Complementary Medicines being so important in helping community health and wellbeing, as a Board Member of our industry body - the CMA, we are lobbying to ensure that manufacturers, suppliers and retailers are classified as essential businesses, to include health practitioners and health food retailers. The CMA board is meeting weekly during the crisis so we can monitor and respond to any issues in a timely mater.
I personally have been strongly advocating that our industry is about supporting and assisting with chronic disease states which may prevent the need for people to go to hospital, in a time where many primary support services for chronic diseases are being closed to move resources in hospitals to prepare for the peak of hospitalisations from the virus. Just because there is a pandemic doesn't mean that the patients with diabetes, cardiovascular disease and cancer no longer need support. Our practitioners provide a vital service to these patients in supporting and guiding them during this stressful time. The Government has circulated a 'negative list' of business activity that it considers as non-essential and is currently encouraging healthcare workers to continue working to help ease the pressure on our hospital system.
Stocks Update
We have been very encouraged by the great support we've received from our suppliers who have been able to expedite orders and increase quantities in line with the current demand. As a result, we only have 6 products from our entire range out of stock at present, with most coming back into stock within the next few weeks. We are scrutinising our top sellers and key products as we lead into the winter months to ensure out of stocks are kept to a minimum.
Ordering
We are also endeavouring to maintain supply to your preferred distributor and where stocks may be somewhat limited, we will allocate quantities so that all distributors can maintain stock levels. Given that many of you are using telemedicine to continue to support your patients, a reminder that you can set up your patient online via our patient ordering system.
We continue to encourage you to order your products online via our website www.bioconcepts.com.au which will save you time and give you an indication of product availability.
Customer Service, Technical Support and Warehouse
We are taking all possible measures to ensure that our staff are safe and protected and many are now working remotely from home where possible. Those in the office are following a strict cleaning and hygiene procedure and, in the warehouse, a daily disinfectant process has been implemented, along with gloves and face masks worn at all times. We have also restricted any non-warehouse staff, couriers and other visitors from entering the warehouse.
Key Contacts
Customer Service and Tech Support
Whilst the influx of calls to our Customer Service and Tech lines has slowed a little, if you do experience any delays in getting through, please email us on either info@bioconcepts.com.au or techsupport@bioconcepts.com.au and we will respond as soon as possible.
Practitioner Consultants – Territory Managers
As a reminder, here is a list of our highly experienced Territory Managers should you need any product or other advice.